Analysis:
With the rapid expansion of technology, the computer and peripheral hardware that you purchased even a few years ago have almost surely been replaced by newer models in the market place.  A constant concern for any person is what to do when their CPUs start to slow down and degrade.  Performance gains can usually be found in any system, but after a while the liability – in terms of reliability and productivity – becomes immense for an inferior product.  We at Houston PC Services are always up to date with the rapidly changing market to better serve our clients.  With our expert knowledge, we can offer our clients the best value for their computer needs, a high quality product for an affordable price.
Benefits of a Custom Computer Build:
The first question to consider is why buy a computer from us instead of a retail store?  Actually, there are some big differences between a custom computer from Houston PC Services and a standard retail computer.  Take a moment to consider some of the advantages of buying from Houston PC Services…
Higher Grade Technology

We understand the growing need for the highest quality product to give you the best competitive advantage possible.  You know your business.  You know your needs.  We're going to listen and patiently respond to all of your questions and concerns.  We know our business.  We're true professionals.  We're not going to try to impress you with the kind of superficial hype you might get in one of the big package stores.  What we offer is a product that will provide speed along with reliability, built around the best technology available from the leading manufacturers.  

More Bang for Your Buck

When you buy a store-bought computer, a majority of your investment goes toward purchasing the brand – Dell, HP, Lenovo, Toshiba, etc. – and all the promotional software that comes with it.  These big-name corporations often skimp on the hardware inside while at the same time offering a lot of software that most consumers find virtually worthless.  At Houston PC Services, our custom computer builds focus on the hardware and software that you really need.  We deliver a better product at a reasonable price.  We know that every time you boot up your computer, our reputation is on the line.

Custom Operating System Setup

There is no such thing as one-size-fits-all computer package.  Every custom computer we build starts with a fresh operating system at the core.  We customize the system to your needs and preferences, focusing on the services that you will be providing to your own clients.  We won't bog your system down with a bunch of useless promotional software that will invariably slow it down and render it obsolete prematurely.   Before any computer is built and set up, we go through a step-by-step consultation process in order to provide the best combination of hardware and software, designed to meet your needs both now and well into the future.
Conclusion: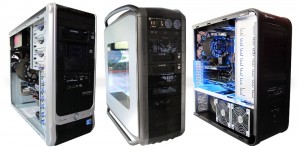 You may need a simple computer to perform basic functions for your home or business.  You may need a high-end computer capable of supporting your specialized business technology.  You may need an integrated network of computers, servers, printers and peripherals to harness the power of your growing company.  Regardless of your personal or business needs, our specialists can provide you with the ideal computer setup.  Don't waste your time with the big box stores.  Give Houston PC Services a call and let us work up a quote for your custom build.  You won't be disappointed.