Analysis:
With the rapid expansion of technology, the computers and hardware that might have been applicable a few years ago has slowly but surely been replaced by new age hardware.  Required to keep your systems running smoothly and fast without hangups/errors and crashes.  A constant concern for any person is what to do when their CPUs start to slow down and degrade.  Sometimes it takes a simple upgrade of hardware to slightly improve the performance but after a while the costs become immense for a inferior product.  Over here at Houston PC Services we are on the forefront of keeping up with the rapid changing market to better service our clients.  With our expert knowledge we can offer our clients the highest quality product for an affordable price with any custom computer purchased.
Benefits of a custom computer build:
The first question anyone has is why should you go with a custom computer build instead of simply buying a new computer from a retail store?  There are plenty of differences between a custom computer from Houston PC Services and just a standard retail computer.  Take a moment to browse through the many additional features that comes from Houston PC Services.
Higher grade technology

We understand the growing need of the highest quality product to better service our clients.  With the constant evolving technological world we live in, we have to always adapt and change to the times. What we offer is a product that will provides speed along with reliability.  We rely on technology so much as a society today, the last thing we want to provide to our customers is a product that will degrade and fail.

More bang for your buck

With any store bought computer, a majority of your investment is purchasing the brand along with all the promotional software that comes along with any Dell, HP, Lenovo and so on and so forth.  These big time corporations will skimp on hardware inside to provide someone with a large amount of software that 90% of the time is completely worthless to the consumer.  At Houston PC Services our custom computer builds are purely focused on the hardware to provide a better product at a reasonable price.  We know that every time you boot up your computer, you will be thinking of our company and service. In turn that pushes our highly trained technicians to give you a superior product to that of our competition.

Custom operating system setup

With every client we have to adapt to their specific needs and services they in turn provide to their clients.  With any custom computer we build we start with a fresh operating system at the core.  If you have ever purchased a brand new computer you realize they come standard with a bunch of promotional programs or simply put, useless programs that will do nothing but slow down and degrade your CPUs quicker.  Before any computer is built and setup, we will go by a step by step consultation to provide both the ideal hardware and software to be installed on your machine.
Conclusion: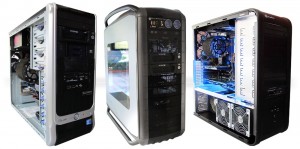 If you are looking for the ideal setup and computer tethered to you need.  Our computer specialists can provide you with the ideal product for your business or home.  From a simple computer to service basic functions of a business to whole on "super computers" to process high grade programs that only the best technology on the market can handle.  Before shopping around at your local retail store feel free to give us a call over here at Houston PC Services for a free quote on a custom computer build to service your business or home.